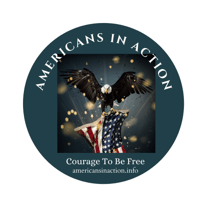 Legal or Lawful?
It is crucial to define the difference between legal and lawful. The generic Constitution references genuine law. The present civil authorities and their courts use the word legal. Is there a difference in the meanings? The following is quoted from A Dictionary of Law 1893:
Lawful: In accordance with the law of the land; according to the law; permitted, sanctioned, or justified by law. "Lawful" properly implies a thing conformable to or enjoined by law; "Legal", a thing in the form or after the manner of law or binding by law. A writ or warrant issuing from any court, under color of law, is a "legal" process however defective.
Legal: Latin legalis. Pertaining to the understanding, the exposition, the administration, the science and the practice of law: as, the legal profession, legal advice; legal blanks, newspaper. Implied or imputed in law. Opposed to actual.
Lawful matters are ethically enjoined in the law of the land—the law of the people—and are actual in nature, not implied. This is why whatever true law was upheld by the organic Constitution has no bearing or authority in the present day legal courts. It is impossible for anyone in "authority" today to access, or even take cognizance of, true law since "authority" is the "law of necessity," 12 USC 95.
Legal matters administrate, conform to, and follow rules. They are equitable in nature and are implied (presumed) rather than actual (express). A legal process can be defective in law. This accords with the previous discussions of legal fictions and color of law. To be legal, a matter does not follow the law. Instead, it conforms to and follows the rules or form of law. This may help you to understand why the Federal and State Rules of Civil and Criminal Procedure are cited in every court petition so as to conform to legal requirements of the specific juristic persons named, e.g., "STATE OF GEORGIA" or the "U.S. FEDERAL GOVERNMENT" that rule the courts.
Source: sedm.org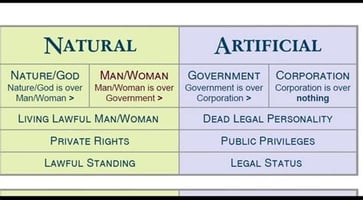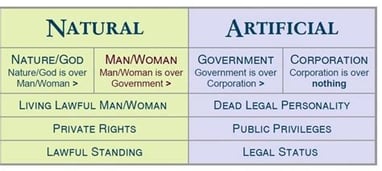 Watch "LAWFUL VS. LEGAL" with
DR. TENPENNY AND CHRISTOPHER JAMES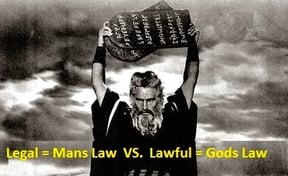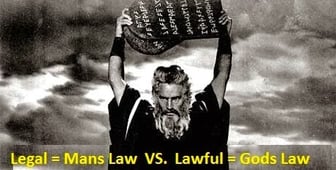 Once the lie has been revealed, it is our right and responsibility, each and everyone of us....to do what is necessary, and get into action!
Stand therefore, having fastened on the belt of truth, and having put on the breastplate of righteousness Ephesians 6:14
You Can Use
"rights' documents"
to lawfully pushback and get into action to hold accountable those who want to deny our unalienable rights.